Seeing as I can get on a roll. I decided to plan out my Guest room 1 for you too. I can't do mood boards like
Sherry
. But I can Google, explain, and imagine. So here goes it!
The room currently has the twin day bed, a book case, a desk, a dresser, and a dresser/cabinet in the space. I don't intend on using all of the pieces but some of them obviously need to stay. Once the day bed leaves the room (yesterday's post) we will be moving our queen mattress set and comforter into the guestroom. We plan on getting a better KING mattress in the near future thus requiring a relocation of the current one. The comforter on said bed was a precious gift that has seen better days. It is a pieced together heavy blanket of tans and off white patterned fabrics. Similar in tone as the picture bellow.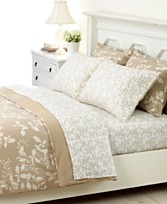 In order to give it a warm, hopefully spa look, I plan on going very neutral and even with the colors. No bold colors like guestroom 2 unless its spring and then it might get a punch of green. But any who...
For the cooler months I would like a chocolate brown set of sheets on the bed. I think this will give a warmer look, while a off white or white set of sheets for the warmer months will give a cooler crisp feel.
The window in the room will be using re-purposed brown curtains from the living room at the old house. They are a heavy fabric and reach from almost the ceiling to the floor. I plan on keeping these up year round. The room will remain white, thus I believe the heavy curtains will be fine year round.
I believe I will be keeping the desk in the room. It was a gift handed down through the husbands family. It needs to be refinished, but that is a future project for next summer. Above the desk I would like to do a hodge podge of pictures, knick knacks, etc all in different sized brown frames. I haven't decided if the frames are natural wood or painted brown yet. I found a few photo's that I think capture the idea.
Sticking with my nuetral color scheme I would also like to follow the trend with some hot objects like:
The Milk Crate (for holding magazines, blanket, pillows, etc)
Burlap pillows (not to actually sleep with)
And I think some fabulous statement making chair like these would be great too!
A room needs some lights...
Have anything I can add to this?