So on a whim we hopped over to our local Kohls the other day. Yesterday actually when hubby and I were doing some fake shopping. We didn't look at the bedding much, actually I looked at the kitchen stuff. It was my first visit to Kohls. Lucky for me got asked to do a survey. At the end I got 15% off. Today we decided to use it. Ended up getting the white duvet and red sheets for guest 2, the brown sheets for guest 1 and a bed set for our future king!
Anthony found it, suggested it( I think as a sort of joke) and we just kept coming back to it. Eventually we bought a coverlet for the summer and a comforter for the winter. So with out further wait...
This is a picture of the bedding we "fell in love" with. The sheets and the coverlet are the actual ones that we bought and the tan comforter (which I preferred) was replaced by the below blue one that matches the strip in the coverlet.
I love the bold strip pillow shams in the first picture and what ultimately pushed me over the edge of not worth the fight of arguing over the blue/tan comforter nor did I really want to look any longer.
The red is a true red and I think the pillows from guest 2 will be making appearances in my room every now and then. The brown is a true chocolate color which I seem to be drenching my house in. The blue is the shade of blue that is very in right now with birds, trees, and just about any design available, which is good because I am all up for mixing and matching pillows!
Right now we have a very large almost china cabinet of a dresser/hutch. It was a very expensive (HEAVY) piece given to us by my parents. It was their first piece of bedroom furniture and has last 35 yrs for us to take it over. It is very ornate for its time period. I would like to sand it down and stain it a darker chocolate color but I just don't think it will be possiable. The bed frame won't matter because I a sure we will be building it and will stain it to the desired color. The curtains for now will be brown due to the over whelming number of brown curtains I seem to have in this house. We were also going to do curtained closets on either side of the bed like John and Sherry(young house love), but we'll have to see with the new bedding.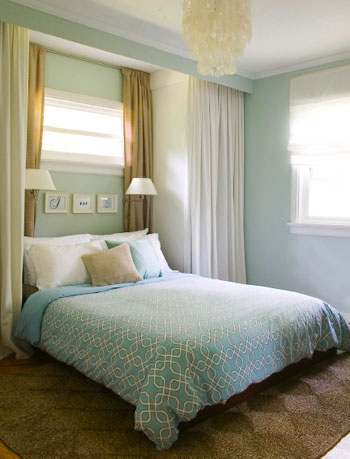 That is all I can really come up with except pillows... my new found love for pillows... so what did I find? Nothing! Sadly after many Google searches and a few site searches I didn't find anything that jumped out at me. I will probably just have to collect pillows over time. Which I am fine with... that way I can continue decorating!